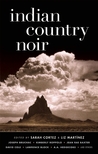 Indian Country Noir
by
Sarah Cortez
My rating:
4 of 5 stars
Indian Country Noir is a collection of noir tales focusing on Native Americans.
Helper:
As two men are coming for him, Indian Charlie remembers the past deeds that brought them to him. This story starts the collection with some action and dirty deeds. Good stuff.
Osprey Lake:
On the run after a hold up, Don and Heather hole up in a secluded cabin built on a sacred hill. I could feel the biting cold while reading this. I felt bad for Heather as the situation unfolded.
Dead Medicine Snake Woman:
A former marine sees a woman thrown off a subway platform and tries to help. But does the woman really exist? This was an interesting tale but I'm not precisely sure what happened. Was it a tale of a man fighting a monster or fighting the monsters inside himself?
Indian Time:
Fred, an Indian man, gets time with his kids for the first time in two years. He and his girlfriend teach them about their heritage. This was an emotional tale with a great ending.
On Drowning Pond:
A homeless woman drowns in a pond under suspicious circumstances. In the years following, numerous men are found dead under similar conditions. This one was pretty spooky and illuminates the plight of Native American alcoholics.
Daddy's Girl:
Daniel Carson is hired to track down a missing girl and retrieve some stolen money. Will he bring her back alive?
This one was a fairly standard PI tale with a Native American lead. The ending surprised the shit out of me.
The Raven and the Wolf:
Detective John Raven Beau is hunting for the killer of a cop, a man calling himself The Wolf.
This one reminded me of the last one, only the Native American lead is a cop, not a PI. So far, The Raven and the Wolf is neck and neck with Daddy's Girl as the best story in the book.
Juracan:
Papo goes to Puerto Rico for a wedding and gets entangled in sinister dealings involving the Taino, the indigenous people of Puerto Rico.
This one was long and convoluted. I'd be lying if I said I enjoyed it. The Taino culture was interesting, though.
JaneJohnDoe.com
A deposed drug dealer forces a PI to create a new identity for her in exchange for a list of meth dealers on all Indian reservations.
This one had some twists and turns. The ending was pretty sweet.
Lame Elk:
After a beating during a drunken bender, a man offers Lame Elk a chance to turn his life around.
This was a touching, depressing tale about an alcoholic not really being given a chance to make things right.
Another Role:
Washed up Indian actor Harry Garson gets tapped to play the role of a lifetime. But is it too good to be true?
Yes, yes it was. Another Role was a tale of double and triple crosses. Pretty good.
Getting Lucky:
Lucretia "Lucky" Eagle Feather meets a gambler in an Indian reservation casino in Michigan. Will he get Lucky?
Lawrence Block penned this tale and it's one of the stars of the show. There's some kink and a great twist ending, as befits the master.
Prowling Wolves:
Ira Hayes struggles with drink and flashbacks after Iwo Jima.
This was a pretty powerful tale.
Quilt like a Night Sky:
Boone Lone Rider finally comes home.
Geez, this was a dark note to end the anthology on. Another story of a Native American laid low by substance abuse.
End Thoughts:
I thought this collection was much better than the last Akashic Noir book I read,
Prison Noir
. The best stories of the collection, in my opinion, were Getting Lucky, Daddy's Girl, and The Raven and the Wolf. Four out of five stars.
View all my reviews