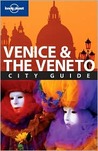 Lonely Planet Venice & The Veneto: City Guide
by
Damien Simonis
Reviewed by Jason Koivu
My rating:
4 of 5 stars
Venice...yeah, it's pretty damn magical. Not only that, but it's also hard to encapsulate in a book. Lonely Planet tried, and did yeoman's work, but pages of words pale in comparison to the reality.
Venice & the Veneto
was going to be my gateway to the city. I was going to read this prior to a trip me and my wife took there back in 2010. With this book, I would discover and map out the Venice portion of our trip. What I ended up getting out of it was that you really just have to be there. Go and let the place create your adventure.
My favorite part of Venice is the "streets". Those are ironic quotes, because many Venice streets are about the size of narrow back alleys in most other places. Frequently I was able to reach out my arms and touch the walls on either sides of the street. The buildings are usually two to three stories high. Sunlight comes at a premium. Ah, but when you find one of those little bridges over a canal or perhaps where a couple streets meet at a relatively open square, and the light shines in upon the water and ancient architecture, for me that right there is what Venice is all about.
The history here is long and impressive. So very much to see and do, what with the cathedrals, palaces and museums. Of course the glass blowing industry on the island of Murano should not to be missed. We were only visiting Venice for three days. It was barely enough. We missed quite a few things that I'd like to go back to see some day.
Perhaps the most important lesson I learned from Lonely Planet's guidebook was that when traipsing around Venice you can't expect to find what you are looking for and it's a fool's errand to try. Yes, do put together a list of things you'd like to see within the city, find them on a map (definitely don't forget to bring the map or reliable gps!) and then hope that you might stumble upon a few of them within the fantastical labyrinth that is Venice!