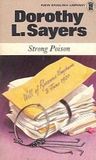 Strong Poison
by
Dorothy L. Sayers
Reviewed by Jason Koivu
My rating:
4 of 5 stars
I was reading this, feeling a whole lotta deja vu and just wondering which came first, Dorothy Sayers' Lord Peter Wimsey series or PG Wodehouse's Wooster/Jeeves series, when out of the blue one of Sayers' characters name-drops Jeeves!
For me and the sort of reading I enjoy, this hit the spot! It was like reading a murder mystery penned by Wodehouse. And if you're been reading my reviews, you know he's one of my favorite authors. There's something very Wooster-like about the foppish Wimsey. The style, language and flippancy of '20s/'30s England mirror Wodehouse almost to a tee.
The major difference is in the slightly more serious tone. This is about a murder trial, after all. It's not the most devilishly clever of murder mysteries, but it's good reading and I will definitely pick up another in the Wimsey series!
Rating Note: This was a strong 3.5 stars. I'll give it 4 stars for sheer enjoyment over any sense of writing quality.
View all my reviews