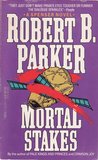 Mortal Stakes
by
Robert B. Parker
Reviewed by Jason Koivu
My rating:
4 of 5 stars
Parker was really starting to get into a rhythm with these Spenser stories. You can see the character coming to life. Everything feels more natural and at ease.
The triangle of deceit he created in
Mortal Stakes
is not diabolically ingenious, but it suits. Spenser is shown sorting out the clues he gathers and going through a methodical process to get to the bottom of it all. I thought perhaps Parker took a shortcut to the main baddies rather too quickly. It was almost like Spenser was drawn to them for no apparent reason other than getting the show on the road.
Extra points for this one due to the inclusion of the Boston Red Sox, my favorite team. Hell, the major reason I started reading these was because they take place in my home city (well, I lived 45 minutes outside of it, but it's still "my city" in a way.) Anytime a writer wants to use Fenway Pahk as a setting is wicked pissah with me!
View all my reviews