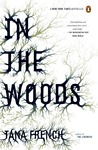 In the Woods
by
Tana French
My rating:
4 of 5 stars
When a twelve year old girl is found murdered at an archaeological dig, Detective Ryan and Maddox are on the case. But what does this case have to do with a similar case twenty years earlier, a case that saw an adolescent Ryan as the only survivor?
As a veteran of detective fiction, riddles, and brain teasers, I'm a big fan of mysteries that keep me guessing. In the Woods was one of those sorts of mysteries.
In the Woods is the story of two detectives looking for answers, both on the case they're working and inside themselves. Rob Ryan and Cassie Maddox are partners and best friends on the Dublin Murder Squad, detectives who catch all the murders that come down the pipe. When Katy Devlin is found murdered and sexually assaulted, they find themselves in the soup pretty quickly. Complicating things is the fact that Rob Ryan used to be Adam Ryan, a lad whose friends disappeared one afternoon, their bodies never found.
In the Woods is very well written and it could be read as simply a police procedural, and it would have been a very good one. The thing that sets it apart from most run of the mill books of this type are the main characters. Rob and Cassie are very well written, real to the point that I wanted to shout at them a few times. Even though it took place in Dublin, it kind of reminded me of The Wire in that there was no happily ever after ending and no action. It was all gritty police work and even grittier interpersonal stuff.
The mystery itself was solveable. Hell, the clues were even pointed out but I was too busy getting misdirected by French's skills. When the truth behind Katy's death was revealed, it was even more chilling than I'd imagined.
French really saw me coming when the Ryan-Maddox relationship took a turn. I wanted them to get together and have detective babies, not have their world come crashing down! Why do you have to be so mean, French? Why?
Great, great book. I wouldn't say it was the best book I read in 2014 but it's definitely in the top ten. Tana French can lead me In The Woods any day. 4.5 out of 5.