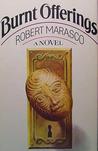 Burnt Offerings
by
Robert Marasco
My rating:
5 of 5 stars
"The hum that drew her to the door at the end of the sitting room had become deeper and stronger, but almost imperceptibly so. It was the door itself that caught her attention now. It was white, and framed within the narrow, smooth border was an intricate pattern of lines and curves carved into the wood, so delicate in the room's dim light that she hadn't noticed the design until she came within a few feet. Swirls and garlands were cut into triangular panels that met in a small, raised pistil. She moved closer and the design became more intricate and abstract and impenetrable: a globe, a web, a sunburst, a maze, a slab carved with ancient pictographs."
It all begins with an advertisement.
UNIQUE SUMMER HOME
Restful, secluded. Perfect for large
families. Pool, private beach, dock.
Long season. Very reasonable for the
right people.
Marian Rolfe likes fine things. She even takes temporary work occasionally to afford an extra fine desk or a lovely bureau. She also loves to clean, and more days than not when Ben returns from teaching, he is greeted by the aroma of lemons and polish.
Ben believes she is a bit obsessive.
Marian is determined to escape Brooklyn for the summer. With a thought to protecting their modest savings, Ben wants to stay in Brooklyn and venture out on a few trips to upstate New York when they need some relief from the oppressive heat of summer. Ben is overmatched, of course, with battling a splash of feminine wiles, a dash of not so subtle manipulations, and a smattering of outright deception.
Once Marian sees the palatial, crumbling Allardyce mansion, she is in lust.
The old adage
if it is too good to be true
is manifesting in Ben's mind in neon colors and mile high letters. It doesn't help that the brother and sister team of Arnold and Roz are not only odd, but are as creepy as a pair of zombie monkeys tethered to Pennywise the Dancing Clown.
The house is full of all the wonderful things that Marian can only dream of every possessing. Ornate furniture, delicate vases, expensive dinnerware, and antique clocks are scattered throughout the house, all shrouded with dust and cobwebs. The walls and floors of this faded beauty are drab and dingy. All of this would give most anyone else pause, but Marian sees beyond the dreariness and knows with buckets of Lemon Pledge, warm water, elbow grease, and a pile of fresh rags she can make it gleam again.
I was looking up Lemon Pledge (Marasco never does say exactly what Marian uses to make everything smell of lemons), and believe it or not, there is a "sexual act," involving two usually elderly men, called Lemon Pledge. I won't share what act that is, but it definitely falls under gross, moronic, and
Never Doing That
categories for me. This description, though, of Lemon Pledge made me laugh:
"The purest most addictive artificial smell in the history of humankind. As its aroma ventures into your unworthy nostrils, it plants the seeds of ecstasy and euphoria into the womb of your mind."
Despite Ben's misgivings, they take the house. After all, it is a bargain, and when would they ever get this opportunity again? Part of the stipulations is that Marian has to feed the matriarch of the family, Mrs. Allardyce, the glorious mother, three times a day by leaving a tray for her outside her ornately carved door. Marian never sees her and only occasionally gets a proof of life by noticing that some of the food on the plates she leaves... has been picked apart.
So this novel is written with a slow burning fuse. There are sprinklings of foreshadowing that add to the unease of the reader. Things start out strange, but not too strange. It was interesting to see the acceptable level we have for the unusual before we start to feel alarmed. Clocks spring to life that refused to work. Weathered roof tiles fall to the ground revealing new tiles. Everything about the house starts to take on a healthy shine. The tendrils of gray hair that start to appear in Marian's hair are just natural,...right?
Ben starts to feel his personality change. He starts to know with more and more certainty that he needs to get away from this place, whether Marian wants to go or not. Things long buried are being pulled out of the recesses of his brain.
"It wasn't there. He knew that. It didn't exist, not outside those childish and unreasonably frightening nightmares. There was absolutely no way something could creep back from the distant past and be real; or out of the tiny, vulnerable part of his brain where the image had lodged itself. And be real and no more than ten feet from him."
And then there is the creepy chauffeur…*shudder*. He reminds me of Charles Manx from Joe Hill's book
NOS4A2
. I wonder if Marasco's chauffeur had some influence on Hill when he was creating Manx. Certainly, Joe's father, Stephen King was influenced by this novel when he wrote
The Shining,
which came out four years after
Burnt Offerings
was published. This book makes the cut for most lists of Best Haunted House novels or even Best All-Time Horror Novels. It is certainly a classic of the genre. No slashing arcs of blood or piles of steaming gore, just good old fashioned psychological terror. I loved it! It was another perfect addition to my reading resume as part of my nostalgic tour through 1970's horror. A movie was made in 1976 starring Karen Black, Oliver Reed, Bette Davis, and Burgess Meredith. I will definitely be cuing that up in the near future.
If you wish to see more of my most recent book and movie reviews, visit
http://www.jeffreykeeten.com
I also have a Facebook blogger page at:
https://www.facebook.com/JeffreyKeeten
View all my reviews