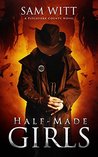 Half-Made Girls
by
Sam Witt
My rating:
4 of 5 stars
Joe Hark is the Night Marshal of Pitchfork County, a rural area of Missouri plagued by meth and monsters. When someone crucifies a mutilated girl in a church, Joe finds himself balls deep in a mess involving drugs, demonic forces, and dark gods.
Sam Witt wrote
The Astromundi Cluster
, a Spelljammer supplement I should get around to writing a review for one of these days. On a whim, I wanted to see what else he wrote and this popped up, for free no less. I've long thought rural fantasy had untapped potential as a genre and I was right in this case.
The lazy way to describe Half-Made Girls is The Dresden Files meets Winter's Bone. There's a lot more grit and a lot more gore than the Dresden files and I don't get the feeling the Night Marshall is working with a safety net like I do with Harry Dresden. The Night Marshall isn't an overly glib white knight, either. He's the guy that gets his hands dirty and does what needs to be done when someone walks the Left Hand Path of dark sorcery.
Set in Pitchfork County, Missouri, a dirt poor place where being a meth dealer is one of the only forms of employment, Half-Made Girls is a tale of dark forces that threaten to consume the earth and the one man that can stop them, the Night Marshall, Joe Hark. Now if he could just put aside his alcohol problem and the curse that has forced a wedge between his family and himself....
Joe Hark is more Roland the Gunslinger than Harry Dresden, a hard man that's been to hell and back a dozen times. When meth head cultist stir up some serious shit, The Night Marshall is forced to do some things he doesn't want to do and question his beliefs and methods in order to set things right. Heavy shit.
As befits the situation, the violence is stark and brutal and no one is making half-assed quips or tired Star Wars references. Even though I knew it was the first book in a series, I felt like all bets were off and I could be reading about a new Night Marshall in the second book.
There's a real sense of place to the book. Sam Witt paints a vivid picture of life in the Ozarks. When he's not painting it in blood and gore, anyway.
Sam Witt is also a much better writer than I thought he'd be. He knows how to write suspense and the dialogue is spot on. Also, he writes things like this: It looked like a bathroom at Hogwarts after a week long meth binge.
Half-Made Girls is a gripping, sometimes gut-wrenching read, so much more than the urban fantasy fluff I was afraid it was going to be. It actually has more in common with Brian Keene's
Ghost Walk
. Four out of five stars.
View all my reviews