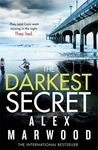 The Darkest Secret
by
Alex Marwood
My rating:
2 of 5 stars
The Darkest Secret by Alex Marwood starts off with witness statements about a young girl missing, presumed kidnapped. We then go to the events surrounding the girl's disappearance and the Fathers 50th birthday weekend celebration. The past timeline is interspersed with the present where the Father of the missing girl dies in mysterious circumstances handcuffed to a hotel bed and the majority of the cast prepares for the funeral. The death is not expanded on and he turns out to be a soulless man who deserved much worse than the cards he was dealt in life.
What really happened on the weekend of the disappearance is divulged as a finale and there's a bit of a twist that I saw coming from seventy two and a half miles away, or pretty much the beginning. The character development holds the story together by something like the last strand that's just about to break but to be honest the story bored the pants off me for the first two thirds and was altogether far too predictable with no real shocks or anything that gripped me.
Also posted at
http://paulnelson.booklikes.com/post/...
View all my reviews